Geekprinzessin Alle so: "Wie würde der Boden aussehen, wenn jemand ein Glas Apfelmus fallen ließe?" Und wer opfert sich wieder für die Wissenschaft? ICH.
JGoschler .@Evo2Me Obwohl, solide etymologische Kenntnisse wären die Lösung für vieles: "Mama, was heißt 'ficken'? "'Stechen', 'stoßen', mein Kind.
JGoschler Meine Deutschlehrerin in der 4. Klasse hat uns damals das Wort "Wichser" erklärt: So nenne man einen Drogenabhängigen.
Die UB hat das von mir gewünschte Buch am selben Tag angeschafft! :-D E-Book natürlich. Jetzt müsste es nur noch funktionieren. >:-(
jasonbaldridge With the recent excitement about deep learning & such, many seem to forget that human-level processing of natural language is AI-complete.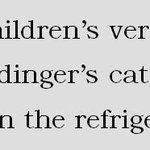 peterglaser Das Quantentheoriechen: pic.twitter.com/chYXpo1K