th_b0 Seit ich täglich Weizengras-Saft in mein Müsli mische, klappt's viel besser mit der Photosynthese.
th_b0 Soziale Interaktion suchend Kaffee trinken gegangen: immerhin weiß ich nun, wie viele Lampen an der Decke der Cafeteria montiert sind.
@spinfoCL Klingt nach einem Autofahrer-Kampfbegriff.
@th_b0 Dieser Regelung liegt wohl die Annahme zugrunde, Studierende seien erwachsen.
ElbeChirurg Zum Nouvelle-Vague-Filmabend einladen und dann gibt's Dosenbier und The Expendables, Teil 1 und 2.
"What was that Asian place called again? I only remember it had an offensive name."
orbisclaudiae Laut Wikipedia ist in meinem Medikament Morphium und Codein. Das ist schön. Soo schöön. Und ihr seid auch schön. Soo schöön.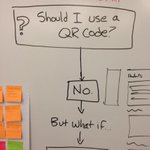 themitcho Thinking about using a QR code? Here's a helpful flowchart: pic.twitter.com/ka02ah6GAM /via @iangilman
DEVOPS_BORAT In startup we are gamify site outage. Three outage and ops team is out.
Erbloggtes Wie wird man eigentlich Pirat, wenn man die Delegation von Sachentscheidungen ablehnt? Das ist doch sowas wie deren prozeduraler Markenkern.
astefanowitsch If you were Christian, would YOU accept HELL-iocentricity, EVIL-ution or modern medi-SIN? I didn't think so.
"One dyslecticus and there goes your theory."