plomlompom "Mindestlohn" wird gar nicht für jede Lebens-Stunde mindestens ausgezahlt, sondern nur für die paar, wo man arbeitet? Ach Sozialdemokraten.
Facebook personal timelines that should be pages or groups cause me physical pain. #fb
juliainfinland @ojahnn "Wort := die kleinste Einheit, die mir meine Muttersprach-Informanten in isolierter Form zu geben bereit sind" :-D
Word of the day: obsertive
plomlompom Träumte TV-Serie mit The Rock als Star. Er: lebenslänglicher Insasse eines BundesGefängnisses. Von dort aus ermittelt er & löst Verbrechen!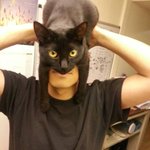 Damientg How to look like Batman, using your cat. pic.twitter.com/eRmmQgcXe3