ojahnn "Wir müssen dann noch den Stromzähler abzählen." - "Eins." - "Awww! Meine Zählbarkeitsexpertin!"
SenseException Ich weiß nicht was ihr gegen die deutsche #php Doku habt. Die ist doch sehr hilfreich: "error_log — Sendet eine Fehlermeldung irgendwo hin"
Die Monster, die ich fiev…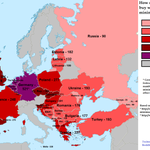 IncredibleMaps Mapped… How many beers can you buy with the monthly minimum wage across Europe? pic.twitter.com/OMliPwZema
@kweenys Konkurrenz zwiebeln? Ausmisten?
CelestinColette Noch näher pic.twitter.com/soWBKqU8eI
CelestinColette Nahaufnahme pic.twitter.com/7QXyryKa4A
CelestinColette Staudamm in Italien. Mit kleinen Punkten an der Staumauer. pic.twitter.com/xTFQ5LTPmm
stporombka Aus dem Nachlass des Malers Johann Heinrich Tischbein (1751-1829) pic.twitter.com/hNQ2ALhh04
ggreenwald If you don't trust me to exercise vast power without any checks, transparency, or accountability, then you're a paranoid libertarian #Cass