stporombka Manche Sachen ignoriere ich einfach. pic.twitter.com/meNwSRWaN8
AcademicsSay "Yes, coffee sounds great. I'll come by your office right after I finish up this manuscript." - Me, 6 months ago
History_Pics The Isolator, a helmet invented in 1925 that encourages focus and concentration pic.twitter.com/bDzviBfAh8
Fischblog "Reduzierter Mehrwertsteuersatz auf Presseprodukte". Oder, wie mir eine Redaktionssekretärin grad schrieb, kurz: Märchensteuer. *kicher*
SciencePorn Thank you for sucking the fun out of everything, humanities. pic.twitter.com/sOZPyLlkfB
mspro hinweis: wenn ihr gegen monopolistische gen-food-konzerne kämpfen wollt, kämpft gegen das patentrecht, nicht gegen die technologie.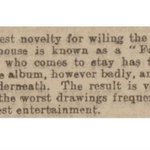 itvnews 'Facebook' invented in 1902, news archive shows itv.co/1elM6Bv pic.twitter.com/VWAnAXOT5r
TiloJung "Steuergeheimnis abschaffen? Geht nicht... weil Privatsphäre!"
"Was hat das eine mit dem anderen zu tun?"
"Ääähm... Öööhm..."
MMugnaia I wish, liebe 9a, I wish! pic.twitter.com/SsKmaAzDPx
ojahnn @texttheater genau, und "scares the shit out of me" = "entgruselt mir die Scheiße"
.@Erbloggtes Jony Ive hat es so entschieden. Wehe dem, der sich dem flachen Look verweigert.
Für "takes the shit out of me" ist doch "entnimmt mir die Scheiße" eine schöne, idiomatische Übersetzung?