VictoriaHamburg Mein 15-jähriger Sohn muss gerade für die Schule "Das Nibelungenlied" lesen. Er sagt, es wäre "wie Game of Thrones für Arme".
@spinfocl Das ist halt das neue Vor-jede-Reply-einen-Punkt-Setzen, oder?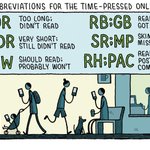 tomgauld 'Useful abbreviations for the time-pressed online reader' (for @guardianreview) pic.twitter.com/Kr9dGbobrg
"So ist Syntax halt. Tische haben keine Penisse, Schlamm hat keinen Shape, passt schon." #LinguistikGespräche
Streunote, die: an einer willkürlichen Stelle im Buch platzierte Anmerkung
noemata Ich erzähl meinen Enkeln später vom Krieg in mir drin.
mitnichten Jede Stadt zwischen 30.000 und 100.000 Einwohnern muss wohl eine "Kulturfabrik Alter Schlachthof" besitzen, sonst wird sie gesprengt.