DEVOPS_BORAT In startup we are apply strategy of one size fail all.
Die Volksparteien haben eingesehen, dass die Grünen in vielen Punkten Recht hatten. Das ist natürlich antidemokratisch. http://t.co/FeuyGBy1
Die bösen Grünen schüchtern die armen Feinde von Umweltschutz, Frieden und Frauenrechten ein. http://t.co/FeuyGBy1
"Ich will die Grünen nicht mit den Nazis vergleichen", und im nächsten Satz vergleicht er die Grünen mit den Nazis. http://t.co/FeuyGBy1
RT @bundesamtfvs: Journalisten trommeln ja gerne mal für Quellenschutz. Wenn Behörden ihre Quellen schützen siehts plötzlich anders aus: ...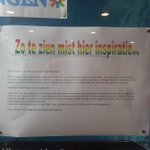 The only legitimate use of WordArt: make an ad looking for a graphic designer. pic.twitter.com/yig9GAjn
"Diese Obsession bitte einmal ablegen."
"I'm not falling for that again. Well, not immediately."