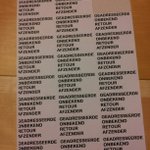 *cracks knuckles* pic.twitter.com/728k3bKCsV
DerBastard fuck you ↑ you ↖ you ↗ you ↙ you → you ↓ you ↩ you ↪ you ↬ you ↫ you ↪ you ↩ you ↲ you ↯ you ↱ you ↰ you ↷ you ↳ you ↶ you ↴ you ↵ and you ↺
kathrinpassig @texttheater I wish it were that easy. (Btw, that is the key flaw in "Dinge geregelt kriegen - ohne einen Funken Selbstdisziplin".)
marthadear OH: "the whole point of reddit is to vote up relevant shit."
It's not the Internet that is distracting, it's your job that sucks.
Afelia Wir beide spielen ein bürgerliches Leben. Aber wir haben ein Safeword, falls es einem von uns zu weit geht.
Die Illustration zu "Developer friendly" here, das ist ja ein ganz heißer Browsereffekt: playframework.com
GebbiGibson Zwei Dinge verursachen dem modernen Menschen Stress: Ständige Erreichbarkeit und wenn er mal kurz kein Netz hat.
Schplock Während Wartungsarbeiten bei duden.de erscheint der Eintrag "Wartung", *hach*
zeitweise Es ist nicht der Montag. Es sind eure Jobs.
raganwald I'm all for buying DRM content that can be switched off in the server. I plan to pay for it with DRM money that has the same property.
plomlompom Ach, wenn die NetzBewegung jetzt die sind, die erzählen, man müsse mehr die jungen Leute einbinden, dann ist sie glaubich echt über den Hai.