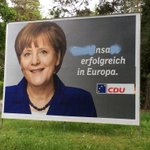 Mathis_Feldhoff #CDU mit bisher verheimlichter Schlussoffensive: #Merkel erkennt Erfolg der USA an. #euwahl2014 #nsa pic.twitter.com/fQa6OepCKl
astefanowitsch Die ÖVP: nicht rechts, nicht links, sondern angflaschelt.
/via @OliveraStajic pic.twitter.com/0GlRkHkEMU
skeptikantin Als Single gehe ich aus therapeutischen Gründen am Samstag Paaren beim Einkaufen zugucken. Heute zu empfehlen: Gemüseabteilung.
.@Ariakan79 Jugendtreff! Ich schmeiß mich weg.
Ariakan79 Ohne Worte pic.twitter.com/OOzXT9TM31
"If this was a Hollywood movie, there would definitely have to be some father-figure to un-disappoint."
"I was under the impression that Germans were born middle-aged."
stporombka Portabler Silberstreif am Horizont (2 Bindfäden, ein Lineal aus Stahl) pic.twitter.com/scQAen8rhU
ahoi_polloi Mein Leben nutzt sich schneller ab, wenn ich es auch beruflich nutze.
Frau_Aust "Da is ne Todesanzeige mit meinem Namen im Google, dat bin ich gar nicht - die muss wech" Google tut mir jetzt schon leid #deutscheRentner