johnsemley3000 the richest man in the world should not be so online. it's unbecoming. JP Morgan once took a boat to Egypt because he wanted to sleep in a tomb to imagine what it's like to be a dead Pharaoh. that's what rich people should be doing. not tweeting about NYT movie lists. yuck.
"I'll join you, but I will be absent in spirit."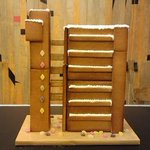 mtwirth Time to dust off the brutalist gingerbread house. pic.twitter.com/e4UbW9cceM
kweenys Klar ist aber auch, dass eine solch intensive Durchsicht von Texten sowohl von Studierenden als auch im Peer Review derzeit kaum mit den Zeitbudgets von Wissenschaftler:innen bzw. Lehrer:innen vereinbar ist.
kweenys Ich würde es deshalb begrüßen, wenn durch diese KI Tools bestimmte Arten des Schreibens an Akzeptanz verlieren und ein Trend hin zu mehr hochwertigen, knappen, menschlich verfassten Texten einsetzen würde.
kweenys Diese Art des Schreibens ist zeitintensiver. Auch das Begutachten dauert länger, da ich präzise analysiere, was geschrieben wurde und nicht vorschnell schließe, was vermutlich gemeint war.
kweenys Beim technischen Schreiben haben wir immer viel Wert auf präzise und knappe Formulierungen gelegt. Schon damals brachte das viel Unverständnis von Studierenden über die Bewertung, die zuvor auf hochgestochenen, weitschweifigen Ausdruck konditioniert worden waren. twitter.com/drfranksauer/s…
FogelVlug Noch einmal: wenn die Produkte des Denkens sich von den Produkten der KI nicht unterscheiden lassen, scheint mir die Frage der Benotung nicht das dringendste Problem zu sein. Überhaupt bin ich irritiert, wie prüfungsfixiert der akademische Diskurs zu dem Thema ist? twitter.com/drfranksauer/s…
Große Stoffwürsteausstellung
an jdm. eine Stylediggung vornehmen