"Plato. The Greek philosopher. Not the modelling compound."
prenzlbergmutti Mit der Kombination von Nordic Walking und Liegefahrradfahren hat Rüdiger eine neue Sportart erfunden. Super!!!
korrekturen Weil Uferstraße als Grundwort empfunden wird. RT @Schebacca In #Köln sagt man RheinUFERstrasse anstelle von RHEINuferstrasse. Merkwürdig.
nodrama_de Tod ist auch nur ein nekrophobes Konstrukt.
The Importance of Being Able to Move along a Fourth Spatial Dimension
Afelia Datensparsamkeit ist eine akute Schutzmaßnahme, aber keine politische Forderung. Das wäre victim blaming und Selbstzensur.
korrekturen Fremdwort des Tages: Truismus (zu true = wahr) = Binsenwahrheit, Gemeinplatz.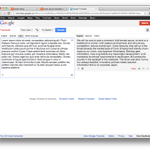 enf Machine translation of Lorem Ipsum. "We will be sure to post a comment. Add tomato sauce…" news.ycombinator.com/item?id=5952781 pic.twitter.com/8ZMYQLc9tY