astefanowitsch Ich würde ein Kleid aus Paprika tragen, und hätte einen Zauberstab aus Schinken (Königinnen haben doch Zauberstäbe?).
astefanowitsch Vielleicht sollte ich für irgendetwas kandidieren. Ist das Amt der Schnitzelkönigin noch frei?
.@korrekturen Dabei müsste es natürlich heißen "Er warf sich seine Schwester über."
astefanowitsch Zum Glück hat man 1904 keine Häuser auf Häuser gemalt, sonst hätten wir hier schnell eine logische Endlosschleife. pic.twitter.com/sC3zRl5kTG
korrekturen Ein Schüler sollte aus "Er, seine Schwester, sich überwerfen" einen Satz machen und machte daraus: "Er warf seine Schwester über sich."
Halina_Waw dieser kapitalismus ist doch zu wirklich nichts zu gebrauchen. der hat nicht mal monatskontaktlinsen in meiner stärke.
Anglizismus des Tages: "Wenn ich schon zu dem Trubel gehe und Socken kaufe..."
@_phoeni Der ist wohl so zu verstehen, dass es zu den normalen Aufgaben eines Mannes gehört, zu (kämpfen und zu) sterben.
steveeichert Stanford researchers to open-source model they say has nailed sentiment analysis — Tech News and Analysis bit.ly/1ebbjM0
ojahnn Problem erkannt, Problem perpetuiert!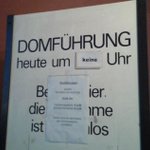 ojahnn Dom in Frankfurt: Domführung heute um keine Uhr. pic.twitter.com/HRQ4tEEqsC