Riotbuddha Reklamiert ihr mal eure Netzpartei. pic.twitter.com/NN7C5Axi9S"
heatherfro if you are worried about AI taking over anytime soon i recommend following @cmunell, tweeting facts it reads, which often need correcting!
Tomorrow's Daily Mirror headline: "Monarch Gives Up Eir Throne to Son" #SpivakPronoun
Queen_UK Text from Prince Charles: "The King of Spain is abdicating to let his son have a go. What a nice man" Not replying. #abdication
Unctuous, sumptuous, rambunctious... but so scrumptious!
Lassitudor Ich habe heute so wenig Lust auf Arbeit, ich könnte glatt als Generalbundesanwalt für die NSA-Affäre zuständig sein.
Wort des Tages: Sowjetztzeit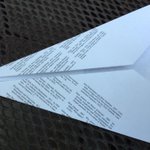 jasonbaldridge I seem to have cited @ccb, @dhgarrette, @ybisk and others on a paper airplane. Sunday afternoon #nlproc... pic.twitter.com/84gH5i53OX