"Unbekannter Fehler im Raum-Zeit-Gefüge. Bitte versuchen Sie es zu einem späteren oder früheren Zeitpunkt noch einmal."
Ich weiß genau, was ich will: Zeit, um es mir zu überlegen.
"Good assignment. It covers the most of the lecture and has the pretension of being all serious and gradable."
"哪儿啊" lässt sich denn auch schön wörtlich mit "i wo" übersetzen.
ahoi_polloi Ich glaube an das Gute im Menschen. Man muss es aber erst reintun. Zum Beispiel Pellkartoffeln mit Quark sind sehr, sehr gut im Menschen.
Chaosfux Ich frag mich, ob's ganz früher auch diese Leute gab, die dann dauernd sowas wie "'Jagd' malt man aber mit drei Mammuts!" gesagt haben.
ojahnn "Bist du im Bad fertig?" - "Klar, schon lange. Ich wurde im Bad fertig *geboren*!"
spinfocl Noch 80 Minuten bis zur Sommersonnenwende. Schnallt euch an, könnte ein wenig ruckeln.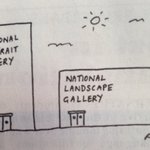 budgie Another lovely cartoon from this week's @PrivateEyeNews. Wonder how many people wish they'd thought of it. pic.twitter.com/Ua8IkbEfpL