"What's the gender of Hausaufgaben?" - "Plural."
zeitweise Und halb Deutschland geht just in diesem Moment auf Toilette. Zum Glück haben wir Rohrneutralität.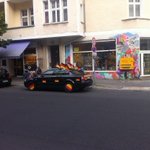 Meyer_Dunker Unverkrampfter Patriotismus heute in Berlin #Lichtenberg pic.twitter.com/ty7ADDYqpz
BobbleKitty High School Principal Cancels Entire Reading Program to Stop Students from Reading Cory Doctorow's "Little Brother" buff.ly/Sp0sYA
caledoniacelt @Iblogtoglasgow Mount Rushmore from the Canadian side pic.twitter.com/GnBvMUYpbO
ojahnn Zeit nehmen für wichtige Besprechungen, zB ob das 1. Kind "Problem", "Resignation" (kurz: Resi) oder "Indifferenz" (kurz: Indy) heißen soll.
Wort des Tages: Antlitzvorlesung