hllizi "Erweiterter Infinitiv" ist so ein typischer Ausdruck der traditionellen Grammatik; klingt gelehrt und sagt rein gar nichts nützliches aus.
stporombka Wo unsere Großeltern noch Umzugswagen bestellt haben, reichen uns eine Plastiktüte und ein W-Lan-Zugang. pic.twitter.com/ZdMbsfjwAO
ctshryock OH:

> Works on my machine!

< Backup your e-mail, your machine is going in production
hllizi Es gibt nur eine vernünftige Kommaregel.
yetzt "orbitaler sintflutlaser aktiv. geben sie ein ziel ein." – "bremen!" pic.twitter.com/cxDAgvt159
@switch2mac @Erbloggtes Naja, "verloren" wurde da nichts. Die Hashes waren doch relativ frei erhältlich, oder?
Wort des Tages: Zurvernunftkunft
brucedene [run limerick]

There once was an X from Place B
Who satisfied Predicate P
The X did Thing A
In a specified way
Resulting in Circumstance C.
ojahnn Gerade sind mehrere Sachen passiert.
Paketzustellrouten sind doch digital erfasst. Warum kann man sich keine ETA-SMS schicken lassen, statt von 9 bis 18 Uhr zu Hause zu sein?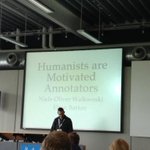 DH_FBK "Humanists are Motivated Annotators" (it's not a question but statement!) #dh2014 pic.twitter.com/DlXrhoomzA
xset dpms force off # turn screen blank until mouse movement/keypress, useful for cleaning
nodrama_de Brecht mit Adorno, schreibt "Falschen" groß!
psycon Happiest guy of the evening: the developer who implemented the scrolling feature of the result display.