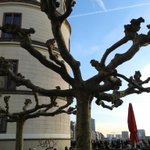 ojahnn Ja, ganz schön hier, aber warum haben die denn die Bäume falschrum eingepflanzt? pic.twitter.com/YLxCKkGqvm
hllizi Das Verfahren wäre besser durchgezogen worden bis zum wahrscheinlichen Freispruch.
hllizi Sie regen sich über die Einstellung auf, weil sie keine Ahnung haben, und sie informieren sich nicht, um sich weiter aufregen zu können.
RichardDawkins "People who write obscurely are either unskilled in writing or up to mischief" (PB Medawar). There are those who take PRIDE in obscurity.
meganamram Starbucks coffee is disgusting. First of all it tastes like soap, second of all u have to get it from dispensers in the BATHROOM????
ThingsWork This is how self-driving cars would work at an intersection pic.twitter.com/7zeLpaMQpW