Gay Jewish man says he'll find it difficult to "fill the void" in his life after levaing neo-nazi movement. Well, he can always join ISIS. channel4.com/news/neo-nazi-…
Ich würde ja sogar noch weiter gehen als Karl Lagerfeld und sagen, wer *joggt*, hat die Kontrolle über sein Leben verloren.
Pflichten, die mich ganz kurz vor ihrer Abschaffung noch erwischt haben:
1. Wehrpflicht
2. Dynamopflicht
Beruf des Tages: Opernsprengmeister
@spinfocl Ich nur den Gastauftritt in The Expendables 2.
ahalterman Mordecai would not have been possible without @explosion_ai's Prodigy. A lack of labeled data held geoparsing back for years. It took a week to fix that with Prodigy. prodi.gy
Manchmal denke ich, dass das Zeichenlimit bei Twitter extra für @MartinSchulz' betuliche Ansprachen raufgesetzt wurde.
stef_hei Liebe #Fahrradständer-Hersteller,
ich weiß ja, ich fahrt selbst nie #Fahrrad, daher könnt Ihr das nicht wissen:
Es geht bei Fahrradständern nicht ums Stehen (da ist der Name irreführend), sondern ums Festschließen.
Also nehmt endlich diese dämlichen Felgenverbieger vom Markt!!! pic.twitter.com/zqxG73kHRE
fermatslibrary Here's a good mnemonic to convert Miles to Kilometers using the Fibonacci numbers (0,1,1,2,3,5,8,13...): 3 mi≈5 km, 5 mi≈8 km, 8 mi≈13 km. Also the ratio between 1 mi and 1 km is very close to the Golden Ratio ≈1.61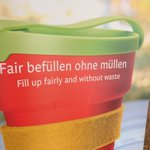 zwantzig Die goldene Twitter-Regel für eine ausgewogene TL pic.twitter.com/V1N01z2gbe
Hans_Opa Ich sympathisiere mit dem BGE, sehe aber auch Probleme. Warum nicht als ersten (problemlosen) Schritt Nulltarif im ÖPNV, freie Schulspeisung, keine Studiengebühren etc. etc.?