@ojahnn Ich würde noch ergänzen, dass x, y und z paarweise ungleich sind. Sonst steht da nicht, dass es drei sind.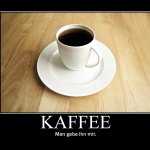 Kaffee. Man gebe ihn mir. (Photo CC-BY epSos.de flickr.com/photos/epsos/8…) pic.twitter.com/IruhfROtXm
ojahnn Shakespeare hat in seinem Gesamtwerk eine Menge unterschwellige heteroerotische Tendenzen versteckt
avalonsaysmoo What's it like living in Germany, you ask? Well, pic.twitter.com/NWAtlyZPYf
B. Ofh (1992): Robust Approaches to Adjusting the Attitude of Lusers. PhD thesis. Waikato University, Hamilton, New Zealand.
"Es ist eine Frage der Herstellung von Wohlwollen."
Heute habe ich beim Putzen hinterm Küchenschrank einen Lynchmob gefunden.