durst Wenn ich Prophet wäre, würde ich mich mit dem scheiß Berg halt in der Mitte treffen oder so.
I put the Irrsinn in Wirrsinng.
ARGLIST = argument list. TREX = training example. #badass
Mein Messbecher hat gar keine Skala für Quecksilber. >:-(
Art. 22, Abs. 3 GG: Die Gestaltung des Bundeskanzleramtgartens ist scheußliches braunes Gelöt.
nodrama_de Bug des Tages: Wenn ein Atomschlag kommt, können die Menschen sterben. Und die Tiere. Und was sagt Google dazu? WONTFIX.
Lotterleben Unterstriche sind also Neusprech. In der Lackbar ist gerade happy hour, ja?
skeptikantin Der Eintrag für *get* (v.) ausm OED hätte 87 Seiten. Das entspricht ungefähr dem Weg zum Institutssekretariat. #funfact
Cmdr_Hadfield Good morning! Space trivia: with no gravity to compress the soft tissues in the throat, astronauts don't snore in space. Tempted to go?
Fischblog Entweder Krieg an sich ist ein Zivilisationsbruch, oder er ist keiner. Diese "guten" und "bösen" Tötungsmethoden sind doch Augenwischerei.
Wort des Tages: Selbstbild-Downgrade
.@plomlompom Idle quibble. The surveillance is a crime, not a tool. Opposing it is opposing the totalitarian attitude behind it.
Erbloggtes ZDF so: "Bejubelte Verräter: Whistleblower"
Realität so: "Verfolgte Helden: Whistleblower"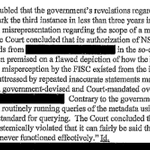 trevortimm This footnote from the just-declassified FISA court ruling on unconstitutional NSA surveillance is extraordinary: pic.twitter.com/r06gSU7KLD