@Erbloggtes "Neo-Nazi Worries" = "Fearing that the book could encourage neo-Nazis", oder was meinst du?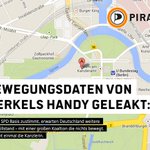 incredibul Liebe SPD Basis: Bewegungsdaten von Merkels Handy geleakt. pic.twitter.com/tSt7WTV36R
frachtschaden Ich habe eben "enimor" statt "anymore" in einem Fließtext geschrieben.
Ich denke, ich sollte jetzt nicht mehr im Büro sein.
climagic mkdir frames && cd frames && mplayer -ao null -vo png ../video.flv # Convert a video into a series of pictures for analysis.
thorstena_bln These: Natürlich gibt es Anti-Amerikanismus, in Verbindung mit der NSA wird er aber meist als Unterstellung und Totschlagargument gebraucht.
"Verfügen Sie dies einstweilen in Ihren Arsch!"
ojahnn "... and even took to replying to researchers' questions with "bullshit" when a simple "false" would have sufficed."
franklyfranc From a friend: "'The Cloud' should be renamed 'someone else's computer' so people might have some idea of where their data is going." Agree!