Wort des Tages: Krassdräufe
SoVeryBritish Looking away so violently as someone nearby enters their PIN that you accidentally dislocate your neck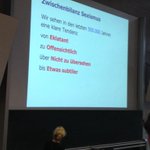 tinuqin The sarkasm is strong in this one #WeihnachtsVL pic.twitter.com/QwA2cJda00
oatp Caltech Announces Open Access Policy | Caltech: "On January 1, 2014, a new open-access policy for faculty'... bit.ly/1fo1wmz #OA
Due dates für Google Tasks setzen und dabei schon "Yeah, right" denken.
m_rinck Hier: der leere Schillersarg, und daneben, ein Sarg voller Goethe.
m_rinck Schwebeballast? Ja, Schwebeballast.
m_rinck Spiritistisch versierte Viehdiebe beim Rinderrücken.
m_rinck "Nein, da bist du leider meinem gefallsüchtigen und verlogenen Binnenwesen auf den Leim gegangen."
m_rinck "I declare this Kunstaktion." Sicherlich. Declare this Kunstaktion.
m_rinck "staging your own wiederholtes verschwinden to vanish the vanish damit das verschwinden verschwindet"
Wort des Tages: Geizkosten
"And all I got was scanned by the NSA." Brillant! :D
HansZauner Lachen oder Weinen? " Nach einer Ausleitung der Impfung durch den Heilpraktiker ist jetzt alles wieder wie vorher "