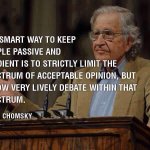 HalDockins Chomsky as always is penetrating in his analysis of "maintaining passivity and obedience." pic.twitter.com/YAWudbi9t7
stporombka Manchmal ist der Frühling stärker als wir. pic.twitter.com/GECi2BS1SK
pushinghoops remember the US retroactively counts every 'military aged' male killed by a drone a 'militant'
Lotterleben Dickkopflevel: Sitze schmollend mit Salzkruste auf dem Rücken neben der 70kg-Tür, weil ich es nicht schaff sie allein einzuhängen.
Wort des Tages: Rückbesinnungsaufsatz
astefanowitsch Kita-Schließzeit, Tag 9. Habe mir heute morgen eingebildet, eine geöffnete Kita zu sehen. War nur eine offene Schranktür.
TheNardvark TRAIN TIP: A few minutes before the train arrives at your destination, get up and crowd around the exit so you can wait faster.
stporombka Das Schöne an Ostern ist der Gedanke, dass es nach unserem Tod weiter geht. pic.twitter.com/eGVNxdgjBr
MannvomBalkon Wenn ich groß bin, komponiere ich Fahrstuhlmusik. Aber nur für nach unten.