Most beautifully written system description I've read all year, not to mention teh awesome of the thing itself: urbit.org
Life tip: whenever pressed for choice, go for the arithmetic mean!
ceejoyner on my signal, boys [kicks door open] HELLO WOULD YOU BE INTERESTED IN PURCHASING SAFER LOCKS
Erbloggtes Gebloggt: Verjährungsdebatte: Zur Ersitzung des Doktorgrades wp.me/p13YbP-W7 - mit Neuigkeiten aus München und Düsseldorf
kykel Hat jemand Lust, mich zu einer als "Punksause" beworbenen Unannehmlichkeit in eine Lokalität namens "Trickster" zu begleiten?
0xffff Mit "Flash muss sterben" war nicht gemeint "Dann nehmen wir halt Silverlight".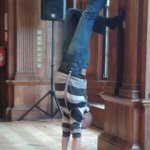 kath_graham Here's @ungewinster casually observing rehearsals pic.twitter.com/S2B4SBwi0Z