astefanowitsch Wie hat man eigentlich Seminare mit aktueller Literatur vorbereitet, bevor es diese osteuropäischen Wissenschaftsraubkopierer gab?
plomlompom Google Books hat es, gibt aber nur Snippets raus. Wie crawlt ihr euch aus der Snippet-Anzeige automatisiert Volltexte zusammen? #OpenAccess
bup restore -C out /mail/latest/ # bup gotcha: need trailing slash when restoring a complete backup, otherwise just creates a broken symlink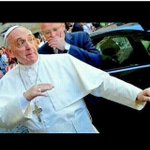 temitvyo Why this pope looking like he about to drop the hardest freestyle of the year and d guy behind him dropping the beat pic.twitter.com/V6AZIyE29Q
quantenwelt @Fjunchclick Ich liebe Finnisch. Da muss ich mich wenigstens nicht konzentrieren. Ich verstehe jedes Wort, weiß nur nicht was es bedeutet.