Merkel: "Wie viel kleiner will die SPD sich eigentlich noch machen?" Ja, das haben wir uns 2013 auch alle gefragt. #Koalition
Was soll das "Bestellerprinzip" bringen? Ist für Maklerin doch trivial, die Wohnraum Suchende zur Auftraggeberin zu deklarieren.
Nachtvogel Neue Disziplin in den Verpeilungswissenschaften: Am ANFANG einer Rolltreppe unschlüssig rumstehen.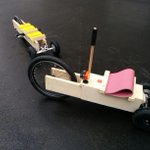 z_observer Pierre Naveaus Masterarbeit: Ein Schlitten für den Sommer (Prototypen). pic.twitter.com/vAI6Bv13GG
astefanowitsch . @join13luck Das können sie sich selbst sprachhistorisch belegen, indem Sie in der U-Bahn Jugendlichen mit Migrationshintergrund zuhören.
scott_bot Explore how racial segregation occurs even when all individuals prefer diverse neighborhoods. ncase.me/polygons/ Wins the internet today
seanmcgregor 25.9 percent of accepted papers at #NIPS2014 were not accepted in a controlled experiment. This is near the theoretical maximum.
Germanismen im Niederländischen: habe nach "überhaupt" und "sowieso" jetzt auch mit "an sich" Bekanntschaft gemacht. ♥