guardian The law will protect any member of Congress who releases the full torture report. Someone needs to step up trib.al/6vMnnbd
skeptikantin "Der IC6 hat derzeit eine Verspätung von 15 Minuten. Verspätung aus dem Ausland."

Schlümm, was hier alles rein will, gell.
foxitalic Frühstück bei @nodrama_de pic.twitter.com/RUkQmYSv5O
Lotterleben Wartet mal, der "real mein Code C" Typ trägt das als T-Shirt?! Bin versucht mir ein "REAL MAN" Shirt & Daypass zu organisieren.
Lotterleben (hat ja niemand behauptet dass echte Männer *vernünftiges* C schreiben. :B)
nodrama_de Unsere Nachbarn sind Bernds und wenn jemand php sagt, lachen sie reflexhaft.
Wie man strahlt, so funkelt es zurück.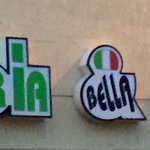 Agent_Dexter Früher gab es hier Fleisch und Wurst, heute ist ein Italiener drin. Hat alles in die alte Leuchtreklame gepasst. pic.twitter.com/lnHssF0Idw