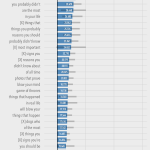 minimaxir 30 Linkbait Phrases in BuzzFeed Headlines You Probably Didn't Know Generate The Most Amount of Facebook Shares pic.twitter.com/ejPDGWOmwV
Wieso zur Hölle glaubt jemand, mit 18 was von Steuern, Miete oder Versicherungen verstehen zu müssen?
zephoria Why do journalists/tech folks over-read individual teen accts of social media? This trend is dangerous. bit.ly/14pJ7Vu
Nacktmagazin "Zu Dügida? Nee, zu Nodügida!"
"Wow! Wusste gar nicht, dass du Japanisch kannst!
Mein nächster Horror-Schocker wird folgenden Titel tragen: PB – PEINLICH BERÜHRT.
RandiLawson To add insult to injury, your broken arm is stupid