emilyslist Usually, we have to convince women to run for office. This year, thousands of women are reaching out to us to run! bit.ly/2u1fhXR
Wort des Tages: Vigorosum
One of my favorite things about living in Germany again is @Shpock. Best way to sell/buy used stuff I've ever used.
SPIEGELCaptions Uraufführung der Jünger-Oper "Auf den Marmorklippen" im Nationaltheater Mannheim: Blockweise rattenfrei
ojahnn I've never felt as good about myself as a player as I did when playing The Witness. I love that there's no story, no NPCs, no skill tree.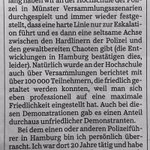 FJ_Murau Leserbrief in der heutigen @SZ. pic.twitter.com/6zo0ALpi8U
*packt Portionsbutter aus*
*gießt sie aufs Brötchen*
#Sommer