@tschfflr Office Lens is a camera app that recognises, un-distorts and trims around the slide (or document) in the picture.
jycdivision let's start with this recent instant-classic post pic.twitter.com/HceGrUJGHz
kathrinpassig @plomlompom Diverse. Künstliche Verknappung ist ja, wie der Name schon andeutet, keine notwendige Eigenschaft, man kann sie auch weglassen.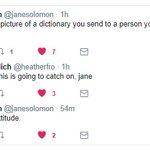 lousylinguist When Twitter is good, it's really good. pic.twitter.com/nmiYv6eHIO
Every time I see someone use a regular camera app (instead of Lens or similar) to take a photo of a slide, I scream internally.