durst Eßpommes – Das schmackhafte Kartoffelgericht für Zuhause, Freibad und Büro.
OnkelMaike @hllizi @ueberschaubar ich gehöre ja zu den leuten, die zugeben können, dass sie sich geirrt haben. finde mich aber total geil deswegen. zu den netten gehör ich also auch nicht.
asayeed I still think we need the EthNLP workshop to alternate with an NLP4Villainy workshop, you must arrive wearing a cape or a monocle.
Seelenpeinporno. Bestimmt geil, wenn man drauf steht.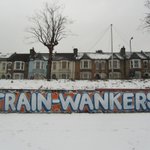 shitlondon London in the snow as glimpsed from a train. Magical. pic.twitter.com/wbG2QwYASo
durst Kann es sein, dass die Pizza-Hawaii-Kritiker dämlicherweise ganze 🍍 verwenden?
Lied mit Schallplattengeräuschsamples und das dann auf Vinyl mind=blown
einen reproduktiven Tag haben naja
nsaphra That last bit is important because the ghettoization of disabled techies into the accessibility space is bullshit and all of you abled assholes should be working to make my life easier ok
durst Wohnen in Aspik. Eine Zeitlupenstudie.