kykel Die Folge #Traumschiff ist doch auserzählt. Das Tangopärchen soll sich scheiden lassen, die Lehrer wieder Bros werden und die todkranke Ex vom Kapitän in einem Plotloch verschwinden.
johannesbjerva If you started training your NMT model on October 8th 2016 at exactly 19:00, you will have a state-of-the-art model at exactly midnight. Start off your new year right. #NLProc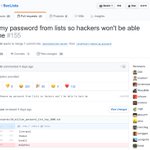 sitnikcode The best pull request in 2017 pic.twitter.com/51ppuR6Plz
Idee: Funkheadsetsystem für Gruppen ab 3 Personen, damit man sich in lauten Gaststätten etc. vernünftig unterhalten kann.
"Nach den Fürbitten spielen wir unseren brachialen Smash-Hit 'Carte Blanche'. Diejenigen von Ihnen, die können, sind herzlich eingeladen, aufzustehen und wild zu hüpfen." twitter.com/Wiki_Irrtum/st…