FoffyMcFoff Ich hab die Kinder ins Bett gebracht und in dem üblichen Spektakel aus "Durst!" und "NOCH EIN KAPITEL" und "Der Türspalt weicht um 11,381 Grad vom perfekten Winkel ab" hab ich evtl sehr tief geseufzt, was der 4j mit "Reiß dich doch mal zusammen, Mama", kommentierte.
EmilyGorcenski I really wish we could rid ourselves of any fragments of an idea that the right works on moral principles and isn't just manufacturing fake moral outrage in order to win at all costs twitter.com/strandjunker/s…
GabrielBerlin "K1 Schatz, gehst du BITTE von der M08 greigen Récamière runter"
GabrielBerlin – Mama darf ich noch lebhaftes Ambiente?
– Wir haben noch lebhaftes Ambiente zuhause.

Lebhaftes Ambiente zuhause: pic.twitter.com/39qh7d40PP
emilymbender @mer__edith And to folks not in AI, just because they're using fancy-sounding (and Capitalized!) terms like "Mel Frequency Cepstral Coefficient" and "Convolutional Neural Network" doesn't mean anything, really, since the fundamental premise is flawed.
emilymbender Folks in AI, please stop pretending that AI is magic that can turn fundamentally flawed datasets into something useful. As @mer__edith says (see thread, too): it sets up a culture of reverence around the tech which enables all sorts of abuses down the line. twitter.com/mer__edith/sta…
GabrielBerlin Werde heute noch die Regierungsgeschäfte ausgewählter follower ~kommissarisch~ übernehmen 🕵️🤝☺️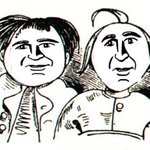 ScHuehnerkrisp W Busch > W Bush pic.twitter.com/Gy9vAUZ5Nn
"Bitte nicht alles mit Banalitäten übertönen."
Wort des Tages: Satisfiktion
BachmannRudi Frusttweet: Wir Ökonomen reden uns seit Monaten den Mund fusselig, dass erfolgreiche Pandemiebekämpfung bestes Konjunkturpaket wäre. Interessiert keine Sau. Stattdessen gewinnen die die Debatte, die einen Gegensatz sehen und entweder das eine oder das andere priorisieren wollen.
peterbreuer Der Vollmond ist ein schöner Ersatz für die vielen Menschen, die in ihrer Stadt keinen Fernsehturm haben. Er bietet Orientierung und ist ein unverfängliches Gesprächsthema ohne politisches oder religiöses Konfliktpotenzial. Der Knaller wäre natürlich noch ein Drehrestaurant.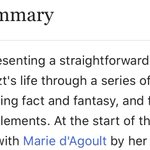 pfadintegral well that was a wild ride pic.twitter.com/4eLHJwx6sv