_KarenHao After spending a few years cutting through Big Tech's B.S. about AI ethics, I've created a glossary to help you decode what all of their favorite terms actually mean.

I had way too much fun working on this! Threading some of my favorites below. technologyreview.com/2021/04/13/102…
Er arbeitet als Vorlesungsmeister im deutschen Hochschulsystem
Kleinstod Wenn ich bei LinkedIn angeschrieben werde oder generell Ausschreibungen unter die Nase bekomme, sehe ich nur noch Red Flags, es ist krass
markus_schlegel Also wer jetzt ne Kita eröffnet und die nicht »Pimpfzentrum« nennt … mit so was will ich mich gar nicht auseinandersetzen.
soapachu Somehow Ring's erratic choice of capitalisation makes this all the more terrifying pic.twitter.com/mO0io6sD1P
ecpankratz Hi German NLP people, is there a morphological analyser out there can recognise derivational suffixes (like -heit/-keit, -ung, -nis, etc.) and give me the base word? I've tried SMOR but it's pretty meh at this, is there anything better?
Warum heißt es Fesselspiele und nicht verkehrstechnisch gut angebunden
twig2noise Das Eidgenössische Starkstrominspektorat ist auch eine großartig benamte Organisation
Chaosfux es ist Frühling; die Vögel blöken jetzt auch nachts rum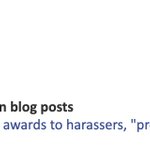 emilymbender Just created a new section on my "slides/blogs/etc" page, in honor of someone invoking the thread reader app (and because I kinda thought all along that one maybe should have been a blog post) pic.twitter.com/vMH1TdnOn7