Establishmensch Die Existenz einer Robben-Auffang-Station impliziert die Existenz einer Robben-Hochwerf-Station.
peterbreuer Hätte gerne in den vergangenen Jahrzehnten mal eine einzige Talkshow erlebt, in der ein Kanzlerkandidat gefragt wurde, ob er es nur geworden ist, weil er ein Mann ist. Gelegenheit wäre reichlich gewesen.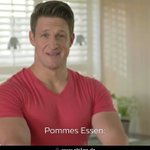 texttheater Pommes essen pic.twitter.com/zK4ZI3wKVA
@_l17r_ @EnglishGibson It's definitely not just an AR ↔️ NR difference though: AR only prescribed "Du" in *letters*, and NR still allows that (though it's optional now).
labenzticker Hürth-Knapsack, der: Ein improvisiertes Behältnis (Hut, Geigenkasten), in dem am Ende eines Konzertes der "Austritt" gesammelt wird, von dem wiederum die Musiker ein kleines Bier und das Benzin für die Heimfahrt hätten bezahlen wollen. Auch: Kollektebeut… labenz.neutsch.org/H%C3%BCrth-Kna…