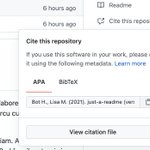 natfriedman We've just added built-in citation support to GitHub so researchers and scientists can more easily receive acknowledgments for their contributions to software.

Just push a CITATION.cff file and we'll add a handy widget to the repo sidebar for you.

Enjoy! 🎉 pic.twitter.com/L85MS5pY2Y
Torbatschow Lange haben Plattformen die Füße stillgehalten und NetzDG und MStV zähneknirschend hingenommen – trotz vielfacher Hinweise auf die vermutete (v.a. Europa-)Rechtswidrigkeit. Nun nutzt Google aktuelle Aufhänger: neueste NetzDG-Änderungen und 1 Beanstandung nach MStV durch @MA_HSH
mjpost I just wish someone could make them cool, along with fanny packs and sunglasses that fit over your regular glasses. Until that day I'm just suffering in the name of utility.
Weißt du noch als sie Eric clapton naja
Eilenbrat [*Drake wegdreh*] Laschomat als Mememaschine
[*Drake hinzeig*] Laschomat als erfundenes jugendsprachliches Adjektiv ohne Bezug zu Armin L.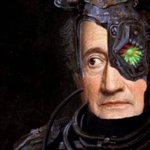 ScHuehnerkrisp Göteborg pic.twitter.com/xzSoO9EuY4
derwahremawa Selbstverwaltete Wohnformen produzieren habituellen Ausschluss. Das ist keine irgendwie provokante Spitze, das ist seit Jahrzehnten jedem Menschen bekannt, der sich mal die Mühe gemacht hat, in einer Universitätsstadt zu leben.
peterdhintz Cool, dass alle deutschen Städte identisch sind. Eigentlich fährt man nie weg, wenn man woanders ist.
Niemand:

Google Maps: "Hat die Mülltonne, neben der du heute gestanden hast, einen rollstuhlgerechten Parkplatz?"
MCCharpentiee Alle auf einmal Sprachwissenschaft studiert wenn's um rassistische Begriffe geht