engl. I'm rooting for you
dt. Ich sperre dir dein Telefon auf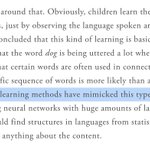 emilymbender Once again, #NLProc folks: Stop telling journalists that ML learns 'like children do'.

And journalists, if someone tells you that, go ask a child language researcher in order to get a more informed take.

twitter.com/RobMcCargow/st… pic.twitter.com/XgH7ojTCYu
Warum erfahre ich *aus der Presse*, dass mein Smartphone seit Dezember 2020 keine Sicherheitsupdates mehr bekommt, und nicht durch eine (wegwischbare, aber periodisch wiederkehrende) Systembenachrichtigung? 😡
das ist ja hier VERFINSTERTSTES mittelalter
complingy @ReviewAcl I didn't know about the DBLP import step! Is this something we should be doing periodically?
ReviewAcl To all authors, reviewers, and AEs: make sure to *complete* your OpenReview profile by:

1. adding a link to your Semantic Scholar page
2. adding a link to your DBLP page and clicking "import papers from DBLP"

This is absolutely *necessary* for good paper-reviewer/AE matching.
SPIEGELCaptions Felsbild eines vom Blitz getroffenen Komantschen: Menschenwürde nur bei Selbstachtung?
@dinahwonders @rossmann Dasselbe bei Online-Apotheken. Vielleicht ist die Nachfrage explodiert, weil Schnelltests nicht mehr kostenlos sind?
Apparently unpopular opinion: Dune (1984) > Dune (2021)
"Try to blend in with me."