oOtrinityOo Falls ihr mal eine Kuh säubern müsst:

Unbedingt die Kuhglocke vorher abnehmen! Sonst wird die Kuh in der Waschmaschine taub.
durst Jacke wie Hose - wie der Taucheranzug die Modewelt umkrempelte.
"Ich müsste lügen, um zu leugnen, dass es nicht unromantisch ist."
durst Haben euch Cartoons auch immer furchtbar aufgeregt, in denen die Sonne schwitzend dargestellt wurde? Ich mein, sie hat's in der Hand, oder?!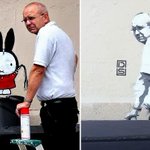 Colossal Graffiti removal guy comes back to find image of himself sprayed on the same wall. Brilliant. (via @xstex) pic.twitter.com/esMF3MNGHE
NeinQuarterly The philosophers have only interpreted the world in various ways; the point is to monetize it.