Hehe. Recurring device in #Westworld: many characters are not who they initially appear to be.
Rick Astley, the Wil Wheaton of music.
Swypo: when you swipe a word on your phone and it recognizes it wrong and you don't notice so you send e.g. state instead of stare.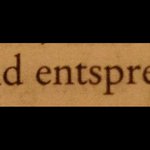 personaldebatte Und dann nahm er ihre Hand in die seine, schaute sie lange an und sagte schließlich leise: pic.twitter.com/MXs4GX6A7L
fraeulein_tessa Social media is making the reality of daily sexual assault und harassment visible to everyone. You can no longer deny that it is everywhere.