GabrielBerlin PLAKATE FÜR ZEITGENÖSSISCHE KUNST IMMER ALLES GROSS UND OHNE SATZZEICHEN AUSSER // DAS IST ERLAUBT KUNSTHALLE SCHIRN 12.–24. OKTOBER 2016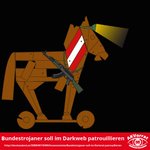 AKVorrat_at Innenminister fordert: #Bundestrojaner soll im Darknet patrouillieren. Wir haben das mal visualisiert. pic.twitter.com/j3T4Hm5dET
chris__martin The worst part about space travel will be the date libraries. You think time zones are bad, have fun with relativity.
@Lotterleben Hehe, was versuchst du denn da? Deine Finger zählen?
Schoolchildren will program the Gronignen city hall christmas tree this year, using Arduinos groc.nl/nieuws/kerstbo…
SPIEGELCaptions Verminderte Rentenanpassung: Ist der Wille zur Macht größer als der politische Instinkt?
In Sowjetrussland, Kurve kriegt dich.