TheTarquin Open source software maintainer burnout as attack surface: github.com/dominictarr/ev…

1.) Maintainer gets tired of maintaining node project.
2.) Someone offers to take it over. Maintainer agrees.
3.) Person taking it over injects code to steal Bitcoin wallet creds, publishes to NPM
lucie_nlp Hey people, what excites you in #NLProc these days? I'm growing a bit tired of the engineering contributions (find NN architecture that works for your tasks, find parameters that work for your tasks, beat SofA by decimal points, publish)... Where do we still need deeper insights?
Grumpfdalm Schäferin, die ihre Herde auf die Blökchain bringt.
Grumpfdalm *fühlt sich durch die Schlafmangel gedreht*
Die Niederlande: vierzigtausend Quadratkilometer unprätentiöse Vegetation punktiert von durchdesignter Infrastruktur in freundlich leuchtenden, niemals abblätternden oder verblassenden Farben.
kathrinpassig Endlich erschienen: der Text, auf den ich jetzt immer faul verweisen werde, wenn jemand behauptet, dass es im Netz nur wegen der fehlenden persönlichen Begegnung so viel Streit gibt. twitter.com/redaktionmerku…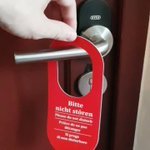 bomelino ratet mal ob ich heute geweckt wurde weil jemand mein zimmer aufräumen wollte pic.twitter.com/VpG29oY2W5
whatnick @DiMacharia_ We are going over Stanford NLP/NN lectures. Would be great to have some linguists in the room to discuss "anaphora", "cataphora" and other linguistic primitives. Instead we have too many programmers debating subject and predicate.