cfiesler This is a fantastic resource for considering how to ask about gender in surveys. It has been critical for our fandom research that participants can self-describe gender, and for cases when open response coding is impractical or inappropriate, this offers a concrete strategy. twitter.com/oliverhaimson/…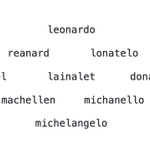 aparrish the interpolated words come from injecting averaged-together hidden states into a sequence-to-sequence model I trained to translate spelling to phonemes to spelling, producing neologisms that sorta sound halfway between the adjacent words. here are some of my favs from the zine: pic.twitter.com/M59bcH2vzi
ryandcotterell Using large-scale multilingual corpora (to complement experimental work), we ask: Is there a non-trivial mutual information between the gender of inanimate nouns and the adjectival lemmata (no inflection) that modify those nouns in large corpora? The answer, surprisingly, is yes!
zeitonline Umweltministerin @SvenjaSchulze68 wirbt für die schrittweise Einführung eines #CO2-Preises im Verkehr und der Wärmeversorgung. Dabei sollten keine Mehreinnahmen für den Staat entstehen. Die Bürgerinnen und Bürger sollen das zurückerhalten. #Klima bit.ly/2JbSyj4
Chaosfux Wenn ihr gegen den Klimawandel Bäume pflanzen wollt, aber zb keine Ahnung habt, welche Bäume in welchen Wäldern überleben, könnt ihr auch hier spenden und pflanzen lassen: iplantatree.org @IPlantATree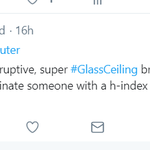 natschluter Interested in shaming me about my work from an anonymous account? I've been there so many times, been called every name in the book. Are you worried about someone's h-index? Try citing them. I'm not going anywhere. Looking forward to programme co-chairing #ACL2020 @aclmeeting pic.twitter.com/KPJdXjiJIu
Cyber nur noch Züber aussprechen aber macht ihr ja eh
UStuggi Vz. 250 hingestellt - Zack, fertig, Marienplatzfest. Umleitung? Fehlanzeige! Radfahrer auf der HRR1 bitte dematerialisieren. Muss das so @stuttgart_stadt ? pic.twitter.com/2IpYzH49Rm
BuckRivera Gefressen zu werden ist eine ganz normale Funktion unseres Körpers, die wir heute leider kaum noch nutzen.
ScHuehnerkrisp No matter how up to code
your doghouse is, Germans will say Hau ab du Köter
hellojed Ohne Führerschein, ohne Betriebserlaubnis, mindestens 50 km/h zu schnell eine Radfahrerin wegballern gibt 10 Monate auf Bewährung. Es bleibt dabei: Wenn du in Deutschland jemanden umbringen willst ohne in den Knast zu gehen, nimm ein Tatwerkzeug mit Motor und Reifen. twitter.com/gabonn/status/…