FillingTheCrack 1/
Das Verblüffende an den offenen Briefen von Welzer, Guerot, Merkel usw. ist, dass sie es tatsächlich vollbringen, eine Argumentation aufzubauen, in der keine einzige Tatsachenbehauptung und kein einziger Zusammenhang der Wahrheit entspricht.

Nur ein kleiner Ausschnitt:
johl One of the most influential essays on the social aspects of the Web was Clay Shirky's 2003 piece "A Group is its own Worst Enemy" that looked at communities before we had the platforms of Big Tech.

This is its URL: shirky.com/writings/group…

Try opening it in your browser.
GebbiGibson "Du bist doch Informatiker!? Meine Platte ist voll, was kann man da machen?"
"Du bist doch Banker? Mein Konto ist leer, was kann man da machen?"
tired: broken webdesign
wired: glitch æsthetic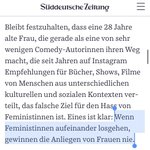 marga_owski Hä dieser Kommentar in der SZ ist so ein Quatsch?? (sueddeutsche.de/meinung/sophie…) Es ist einfach ungelogen seit Beginn JEDER politischen Bewegung so, dass Leute sich dabei auch streiten, ähm… jemals aufm Plenum gewesen?? es ist einfach KOMPLETT normal, jetzt lesen halt mehr Leute mit pic.twitter.com/MwMWegJzXB
@wayfu I give up. Please explain. 🙈
sascha_wolfer Der Ausschnitt meiner Webcam ist etwas zu groß. Ich will also auf einen Bildausschnitt zoomen. Wieso geht das nicht mit Zoom? ZOOM?!? Es ist der verdammte Name!!! 🤬😤 #180puls