It's funny because the premise is false
Ein minderwertiger Ruhepfropfen brach letzte Nacht bei dem verzweifelten Versuch, ihn in meinen Gehörgang einzuführen, MITTEN ENTZWEI.
wiase Zeiterfassung, nä. Kannte ich ja aus der Uni nicht, da hat man einfach immer gearbeitet. Aber jetze - einerseits achte ich bewußter auf meine Arbeitszeiten, andererseits ging gestern 1.5 h länger arbeiten ohne schlechtes Gewissen, aber heute 'ne Stunde weniger nicht.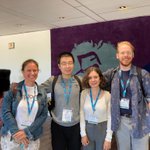 ISI_hhu The crew from Düsseldorf is having a great time at #ESSLLI2022 @nuigalway ! pic.twitter.com/HSxM8LqD3o
hllizi Es ist nicht so, daß im ÖD das Geld generell zum Fenster rausgeworfen würde, Stehschreibstische bekommt man z.B. erst, wenn's zu spät ist.
leonceundlena Ich dusche nicht, ich gewähre dem Wasser eine Audienz.
fixedpointfae hot tip: if your music is grungy enough, you can pretend that JACK's audio clipping at low input latencies is intentional
geschicktgender "Der Nächste, bitte!"
Schon tausend Mal gehört. Wie sagt ihr es gendergerecht?
hrtgn Wenn die Dürre anhält, werde ich meinen Lebenstil entsprechend anpassen: Kautabak, staubige Jeans, Cowboyhut, Revolver
mmbollmann "A ghost having fika by themself, humoristic painting in a simple style" 4/7 pic.twitter.com/RJAH1Zi1Pd
mmbollmann Since I got access to DALL·E a few weeks ago, and I live in Sweden now, please enjoy this selection of various entities having fika. ☕️🇸🇪 #dalle

We start with "Historic oil painting of Darth Vader having fika". 1/7 🧵 pic.twitter.com/8VbSGkFGoD