DMBisson Websites, Please Stop Blocking Password Managers. It's 2015 wired.com/2015/07/websit… @WIRED #security #password pic.twitter.com/3cArnuITPv
"Und doch habe ich allein, allein auf mich gestellt, die Sprachen ganz Europas erlernt!"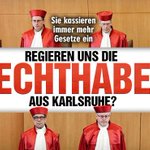 AliCologne Berlin macht scheiß Gesetze die in Karlsruhe zurecht einkassiert werden und was macht die Bild daraus? pic.twitter.com/YMwzj2HY2e
stporombka Buchstütze "Turn of the Screw" (50 cm, Edelstahl, Holz), ideal auch zum Herumtragen von Büchern in urbanen Kontexten. pic.twitter.com/o1iRFvzX3V
oOtrinityOo Sonntags kriegst du ja keine freie Gießkanne auf dem Friedhof.
Ursel_aus_Mais "Rosinen würde ich nicht mal für Geld essen."

"Und Katzenfutter?"

"Auch nicht für Katzenfutter."
savouryvinegar First they came for verbs I said nothing because verbing weirds language Then they arrival for nouns and I speech nothing because I no verbs

BWassertisch Lesen -> sueddeutsche.de/politik/freiha… & sich den 10.10. vormerken: ttip-demo.de/home/ #StopTTIP #StopCETA pic.twitter.com/LhlKKANIpt
mynameisntdave MOBSTER: *cracks knuckles*

ME: that supposed to intimidate me?

*his fingers start to glow like glowsticks*

ME: k I'm scared but thats rad
spidermahatman Kind, komm dich jetzt anziehen!

Nö ich bin die Schnecke Rudibert.

jetzt stockt meine Argumentationskette etwas
rron Am Nebentisch sitzt eine gepflegt wirkende Engländerin. Jetzt lächelt sie. Was machen eigentlich die Zahnärzte ohne Grenzen den ganzen Tag?