Kralle2000 "Jemand hat mein Bike geklaut!"
"Vielleicht ist es auch weggelaufen, weil du es 'Bike' nennst?"
Geekprinzessin Mein Selbstbewusstsein ist grad so mies, als mein Kuli schmierte hab ich in Betracht gezogen, ich hätte verlernt wie man einen Kuli bedient.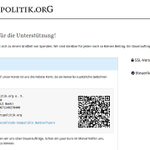 netzpolitik Wer uns wegen #Landesverrat finanziell unterstützen will, findet hier alle Infos: https://netzpolitik.org/... pic.twitter.com/0ocWESJwtM
Wer solche imaginären Freunde hat, braucht keine imaginären Feinde mehr.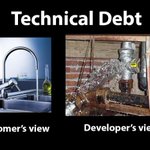 khellang Just tried to explain technical debt to a customer, had to pull this out again... pic.twitter.com/412LcVbSkN
netzpolitik Meine Mutter hat gerade im ARD-Tagesschau-Videotext gelesen, dass mir lebenslange Haft droht. Kann man sich nicht ausdenken.
Motorradclub PUNDITOS terrorisiert das Feuilleton
. @Erdrandbewohner Analog "Ich hab's nicht getan und es war keine Absicht und ich durfte das."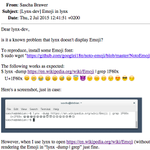 stevewerby Gen X geeks thinks Lynx is dead.
Millennial geeks don't know about Lynx.
Then there's *this* person.
I'm in awe. pic.twitter.com/GQ5v3EyORE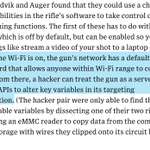 AlecMuffett There's a Default Wifi Password FOR YOUR RIFLE

wired.com/2015/07/hacker… pic.twitter.com/hzxFt1tuK5
MarkSchmidty alias such=git
alias very=git
alias wow='git status'

$ wow
$ such commit
$ very push
cupofcrow If you don't agree with Amnesty, you either:
1. Don't know enough to comment
2. Have a different agenda than the human rights of sex workers