Millennial compliment: "Your face should be a Snapchat filter." #OH
"Please don't ever zest anything again."

-- @Smollsassysloth while washing my dishes
The root of the science crisis aren't p-values, but living beyond our means: society is used to "knowing" more than we can, given resources.
Grauhaariger Pommesmann freut sich auf den Feierabend: "Dann komme ich an meine mentale Ruhe. Dann werden die Haare wieder schwarz."
- Und, seid ihr jetzt ein Paar?
- Nee, du, ich bin mehr so auf ihrer Warmhalteplatte.
Weiß jemand, wann und warum Herfried Münkler von der "heroischen Gelassenheit" zur "mürrischen Indifferenz" gewechselt ist? Gefällt mir gut.
Die Dialekte der deutschen und der österreichischen Hauptstadt befinden sich ja an entgegengesetzten Enden einer Charmeskala.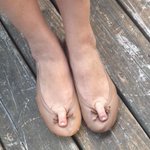 cursedimages_2 cursed image 36702 pic.twitter.com/W7kcqhTxxp
#OH: "Hello, birthday boy!" - "Hello, party guest!"
SPIEGELCaptions Bäcker Guambe, Farmerin Lemos, Hühnerzüchterin Muianga, Banker Boaventura: T E X A S