"Ich kriege das nicht geglaubt." 2 Lesarten:
1) Mir wird das nicht geglaubt.
2) Ich schaffe es nicht, das zu glauben.
texttheater Sehr unterhaltsamer Spam heute: eine meterhohe Textwand, die das "Show Not Tell"-Prinzip heroldet.
What's the opposite of othering? Selfing? Thissing? Owning?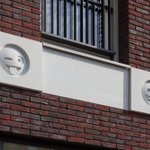 verge This building uses emoji cast in concrete as modern gargoyles theverge.com/tldr/2017/4/24… pic.twitter.com/F7sK2yP1hW
astefanowitsch hab gehört dieser macron will die vermögensteuer senken da kann man genausogut 1 nazi wählen
harryliebs Wenn ihr die Wahl zwischen Pest oder Cholera habt, nehmt immer Cholera, die ist medikamentös recht einfach in den Griff zu kriegen.
"Ich merke gleich, dass der Sitzball viel zu schwer ist, und richtig: Es ist ein riesiger Laserdrucker eingebaut,zu… twitter.com/i/web/status/8…