frachtschaden 🎶 Das bisschen Forschung macht sich von allein (Review #1),
das bisschen Forschung kann so schlimm nicht sein (Review #2) 🎶
@spinfocl @ojahnn Demnächst mal #ddorfcl veranstalten? Auch hier gibt's in vielen Kneipen Kölsch. Wir sind nicht so.
I enjoy @duolingo's Chinese course, but the frequent audio/pinyin mismatches for characters that have more than one pronunciation are really annoying and seem entirely avoidable.
Das Fachschaftszimmer hat Clownautoqualitäten.

GTK+ asking deep questions pic.twitter.com/jFNrJS1zMe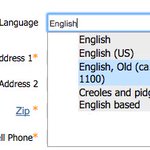 karol My new doctor gives me too many options on their registration form. pic.twitter.com/SGtFKaGH01
gravislizard usps 2002: package should arrive Feb 10-16
usps 2018: UPDATE - TRUCK STRUCK BUMP, PACKAGE SHIFTED TWO INCHES TOWARDS FRONT OF TRUCK, IS NOW TWO INCHES CLOSER TO DESTINATION
us: fuck u how close is it to the door. how many energy drinks has the driver had. what's the speed limit
lerikscline Underrated feeling: crossing something off your to-do list not because you finished it, but because you just decided not to do it.