WTF happened to Lucy and Andy. They used to be likable, now they're bad jokes.
David Lynch as Gordon Cole is superb, better than ever.
Twin Peaks: The Return. First impressions (S03E01-05).
tdietterich @GaryMarcus @elonmusk @etzioni @allenai_org @FT Etzioni says computers need Common Sense. Better to say that they need a lot more common sense than they have now. There will be no moment when computers "have" common sense, just as we people continually reveal holes in our common sense.
halfbyte Transferring money from a german bank account to a swedish bank account is now faster than transferring within germany.

I don't know why, but it is. Probably has something to do with EU regulations?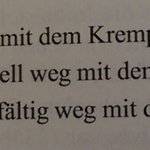 ojahnn Status: finde die Frage, was mit Verben los ist, immer noch zu kompliziert und interessiere mich daher in unproduktivem Ausmaß für die Frage, was mit der *Abwesenheit* von Verben los ist pic.twitter.com/qtnMD1Y2Qj
GabrielBerlin Tweet heißt jetzt Prosafragment sonst ändert sich nicht
SPIEGELCaptions Treffen des Nationalen Sicherheitsrates im Weißen Haus: Blutige Kollateralschäden
bomelino Bitte einen Saugroboter bauen, der mit Piepsstimme "Autsch" oder "Tschuldigung" sagt, wenn er irgendwo gegendotzt und generell pampig die Wohnung kommentiert.

"Boah ey, hier is aber wieder dreckig, Susanne!
... Ich mach hier ALLES alleine!
... GANZEN TAG PUTZ ICH!"
Chaosfux Ich hätte auch gerne eine riesige Parade für mich; die Leute dürften sogar Plakate hochhalten wo draufsteht "ich weiß nicht, wer das ist"